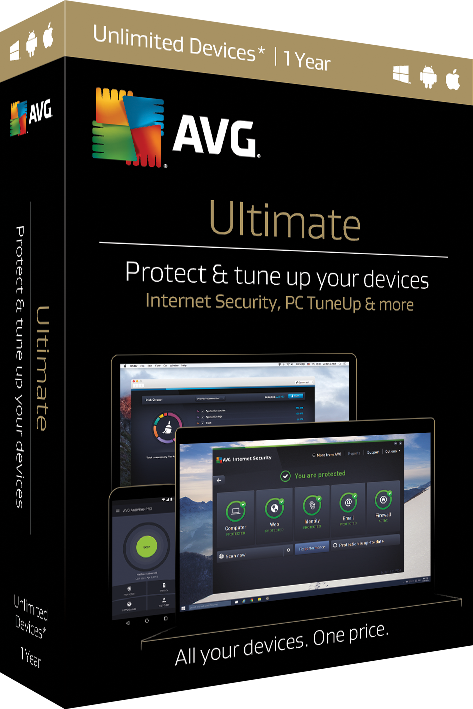 AVG Ultimate Multiple devices 1-year
---
AVG Ultimate is quite simply the best solution for you and your family. One simple subscription (based on Per User Account) covers an unlimited number of PC, Mac® and Android™ devices. And with AVG Zen™ built right in, you can look after everyone whatever their device, all from a single screen.
Unlimited installs. Unlimited devices.
AVG Ultimate gives you unlimited installs (based on per User account) of the following services. Use as many as you want, whenever you want, to suit whatever devices you and your family have.
Our best all-in-one antivirus & tuneup package for your whole family. Includes:
Advanced antivirus for Windows, Mac, & Android
Advanced tuneup for Windows, Mac, & Android
Zen Dashboard to protect & tune everything from a single screen
Real-time security updates & automatic cleaning updates
Install on

 

UNLIMITED

 

computers & mobiles
Overview
AVG Ultimate software boasts AVG's internet security, antivirus, tune up, and more, all wrapped into one. Designed for PC, Mac, and Android, it includes over 80 features to cover your protection, performance, and privacy needs across all your devices. AVG Zen offers a centralized place to easily keep tabs on the protection of all your devices.
More Information
Comes with AVG's Internet Security, AntiVirus, PC TuneUp, Cleaner for Android, and Cleaner for Mac to give you comprehensive protection, performance, and privacy features
Data safe encrypts and password-protects sensitive files
Online shield safeguards against damaging downloads
File shredder securely removes files to thwart snooping and data theft
Link Protection scans the web, Twitter, and Facebook links and alerts you to threats before you click
Advanced Firewall blocks hackers so you can shop safely
AVG Privacy Fix offers an easy way to manage your online privacy
PC TuneUp for Windows provides a performance boost for your Windows laptop, tablet or PC resulting in a faster system, longer battery life, less crashing, and more disk space
AVG Cleaner for Android cleans your phone and tablet clutter to free up space
AVG Cleaner is also equipped with battery profiles to provide longer battery life
AVG cleaner for Mac uses a powerful disk cleaner and improved duplicate finder to keep your Mac clean of clutter
AVG Zen provides a quick and easy way to monitor the protection of all your devices from one centralized place
This version features a one year or two-year subscription with an unlimited household device license



Antivirus & Internet Security features
AVG Ultimate
The best of AVG

AVG AntiVirus

AVG Protection

AVG Ultimate
Antivirus
Blocks viruses, spyware & other malware
Link Protection
Scans web, Twitter® & Facebook® links
File Shredder
Securely deletes files to prevent snooping
Online Shield
Protects you from harmful downloads
Data Safe
Encrypts & password-protects private files
Real-time updating
Get the latest virus defenses as soon as they are available
Anti-Spam
Helps stop spammers & scammers
Enhanced Firewall
Blocks hackers for safer shopping
Complementary products
AVG AntiVirus PRO for Android
Advanced protection & anti-theft from one of the most downloaded antivirus apps on Google Play®
AVG AntiVirus for Mac
Real-time scanning & triple protection against PC, Mac® & Android™ malware
AVG PC TuneUp
Over 35 features to help keep your PC at peak performance
AVG Cleaner PRO for Android
Cleans your device & helps improve its battery life
AVG Cleaner for Mac
Keeps your Mac clear of clutter
AVG Zen™
Remote management of all your devices from a single screen
Unlimited installs*
Covers all of your family's devices, no matter how many
*Install on unlimited devices for your personal and family (home) use (subject to the AVG End User License Agreement). Resale and commercial use prohibited.Per User Account.
System Requirements
Minimum: Memory:

 

512 Processor: 300 MHz or faster
Memory:

 

256 MB of RAM
Screen resolution:

 

at least 1024 × 768 pixels | Internet Explorer® 6 or higher
Online version:

 

at least 150 MB of free disk space
CD version:

 

at least 400 MB of free disk space (and CD-ROM or DVD drive)
Android 2.2+ | Mac OS X 10.8 Mountain Lion or newer
Available for:
---
Share this Product